Avocado Crema Grilled Burritos
Most days of your life will be unremarkable. They will begin and end much the same as the day before. But a few very special mornings, you will wake up and the mundane will become extraordinary. At any moment you could set foot out your door and have your life change forever.
However, keep in mind that extraordinary is not a catchall for only good things. Extraordinary can be joyous, painful, and even humiliating. I am convinced that people grow more during times of despair and confusion. It's simply a matter of perspective. I can say with the utmost conviction, the only extraordinary people I've known are those who have been through an avalanche of trials. They are unorthodox, irreverent, and unconventional rule breakers (just like me!).
What it feels like to be the rule breaker. THIS WAS/IS MY LIFE ALL THE TIME.


To be an extraordinary rule breaker you have to follow your ridiculous dreams. I have so many ridiculous pipe dreams, I probably need an excel spreadsheet to keep track of them all. One in particular does stand out though. I have always ALWAYS wanted to be an elephant keeper at an elephant orphanage. These amazing
keepers
(<====== Go ahead, click the link!) stay with their charges day and night. They become amazing foster mothers to these gentle creatures who are certainly a challenge to care for. Elephants breast feed for 2 years, 2 WHOLE YEARS (I can't imagine the state of those nipples). They also have amazing memory recall and love deeply (just like me!).
Unfortunately I can't live at the David Sheldrick Wildlife Trust, but I can foster an elephant! Thus, I would like to take this opportunity to introduce my new baby elephant... Mashariki. "
The newcomer, a female, is estimated to be about 15 months old, and has been named "Mashariki" the Swahili word for "East" in order to denote her origin as Tsavo East National Park". If you would like to foster your own elephant: CLICK HERE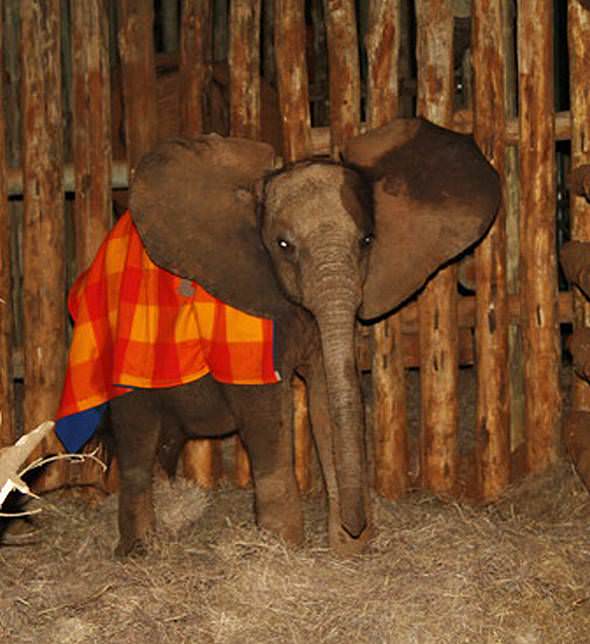 Little Mashariki is looking snazzy in her blanket
There is also a video of her rescue...



Today's recipe is in honor of our little Mashariki. Elephants spend nearly 80 percent of their day eating hundreds of pounds of vegetation. I'm not sure I could manage that on my own, but I can make an awesome lean mean and green grilled burrito instead.

Avocado Crema Grilled Burrito
Serves One

Avocado Crema
2 Small Jalapenos
4 Cloves of Garlic
1 Small Ripe Avocado
2 Tbsp Cilantro
2 Tsp Freshly Squeezed Lime Juice
1 Tbsp Trader Joe's Green Dragon Hot Sauce
1/2 Tsp Adobo Seasoning
1 1/2 Tbsp Sour Cream
1/8 cup water

Burrito
1/4 Cup Mozzarella Cheese
1/2 Cup Rice and Beans (All I do is put in 1/2 cup of rice, 1/2 can of black beans, 1/2 tsp of salt, and 1 cup of water into a rice cooker and just let it rip)
1 Tbsp Cilantro
1/2 Cup of Cooked Diced Chicken
3 Heaping Tbsp of Avocado Crema
1 Flour Tortilla

1. Place jalapenos over open flame and char until completely black. (If you don't have a gas stove you can use the broiler and flip the jalapenos periodically)